AmputeeDatingClub.com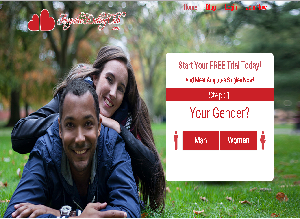 Despite what the name suggests, AmputeeDatingClub.com covers a wide range of subjects in the world of disabled dating, so don't be put off by the name. A simple, easy to use website that does pretty much what it says on the tin, I've had a lot of luck on the site, and I think you will too.
Appearance
The website is very simple to use, which is great for me with my learning disabilities. Anything overly fussy confuses me but luckily, this isn't a website that takes too much stress to sign up to.
Easy to work your way around, and nice, simple search options complete the package, giving you a website that I think you'll be quite happy with.
Registration
You can sign in with Facebook on AmputeeDatingClub.com, making things even quicker and easier to get started, but if you choose to fill it out manually, it only takes a couple of questions before you find yourself at the profile-builder page.
You have the option to use the sites 'Quick Builder' option, making things even quicker to get started, and with the drop down options answering virtually every answer you could think of, it sure beats trying to figure out and then type out whatever it is you want to say about yourself, and any potential matches. You even have the option to pick a generic 'chat-up line' to help break the ice. Most girls laugh at these and you know what they say, girls love a guy that can make them laugh.
Value For Money
After you have filled out your profile page, you are given the option to upgrade your membership for just £1.99 for a seven-day trial. If you give it a shot and don't like the website, you simply don't carry on with the membership so really, you have nothing at all to lose and everything to gain.
Regular membership is £10.97, but the more months you buy, the cheaper your monthly subscription will cost, so if you're pretty happy after the seven day trial, it might be worth buying a couple of months in bulk to save a few quid.
You can get a three month membership for just £23.97.
Selection Of Disabled Singles
I expected to find a bunch of amputee victims on the site and not much else, but thankfully that wasn't the case. AmputeeDatingClub.com gives you the perfect platform to search for and meet a whole bunch of singles, disabled and otherwise.
The 'Hot or Not' section allows you to see brief glimpses of disabled singles profiles, and allows you to vote whether you think they are 'Hot' or 'Not'. Harsh it may sound, but if you rate someone as hot, and they rate you as hot right back, you have found yourself a match. It sure skips all the fluffing around when it comes to dating.
Highlights:
*Great value for money
*Impressive extra features such as 'Hot or Not'
*Easy to use interface that looks great!
Rating: 5/5*
Website: AmputeeDatingClub.com