DeafDatingClub.com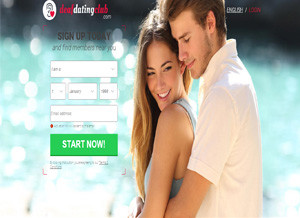 DeafDatingClub.com has proved to be a great all-round disabled dating website for me, hosting both deaf and able-hearing people, as well as people with a whole host of other disabilities.
I was slightly concerned about signing up at first, as I feel the name is ever so slightly misleading, but rather than a community just for deaf people to find potential new partners, it would seem it's not a bad dating website full stop.
Definitely worth a closer inspection, I'd say.
Appearance
I think, out of all the websites I've tried, with the exception of DisabledDatingClub.com, this is my favourite out of them all, appearance-wise. Not just simple and boring, it looks really sophisticated, but not so much so that it is intimidating.
In short, I'd say this disabled dating website had the perfect mix of simple and elegant – not too much, and not too little.
Registration
A couple of questions and a quick email activation link, and you are up and ready to go; registration complete. As you're waiting for the activation link, you're teased with glimpses of other members on the site, and it was actually during this section that I found a girl I quite liked the look of, and wanted to talk to.
Once the link had been sent, I was ready to get myself 'noticed' and build my profile page, filling out an 'About Me' box, as well as what I was looking for out of potential matches.  There are some 'useful tips' if you need a little helping hand too!
Uploading a photograph took just seconds, and I was on my way and browsing the other singles on the site.
Value For Money
The free membership will let you sign up, fill out your profile page, add your photo, and even browse other singles, but if you want to get in contact with any of the lovely boys or girls on DeafDatingClub.com, you'll need to upgrade your membership.
A tad more expensive than some of the others on a month-by-month basis, you'll be shelling out £24.90 per month, or £9.90 a month if you buy twelve months in bulk. You can also add on VIP access to stand out to the most members, and this will set you back just shy of £12.
If you're looking for something cheap and cheerful, DeafDatingclub.com might not be quite the website you're going for, but if you want a website that will actually help you to find what could end up being the love of your life, what's a few quid a month?
Selection Of Disabled Singles
I was impressed by how many members there were on the site, and I would definitely say it justified the monthly membership fees. Gold members can enjoy delights such as advanced search facilities to making looking for love even easier, and you can even get in touch with the new lovelies you meet with their webcam and chat options.
Highlights:
*Beautiful looking website!
*Simple interface.
*Plenty of membership packages with lots of added extras!
Rating: 4.5/5*
Website: DeafDatingClub.com