DisabilityDatingClub.com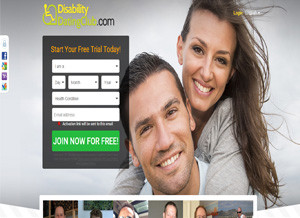 Another website I seem have found myself having a lot of luck on, DisabilityDatingClub.com is definitely a website to have a shot at, especially if you are looking for love. With the promise of '4052' users online right now (*correct at the time of writing), this might be the only disabled dating website you need…
Let's see if that is true in the DisabilityDatingClub.com review.
Appearance
Green is a great neutral colour, so the website gives you the impression it is trustworthy from appearance alone. When you add to that the nice helping of online users running along the bottom of the page, and you have yourself a winner. Appearance-wise, it's not only friendly, but also simple. Don't you just hate confusing, fussy websites?
Registration
A quick registration process and an email activation link later, and you're set free onto the site. It's then time to build your profile page on DisabilityDatingClub.com.
For both the 'About Me' and 'About My Match' boxes, there are 'useful tips', which I found particularly helpful, and I think you will too, especially if you are a beginner to disability dating online. You are then given the chance to upload your profile picture – you'd best make it a good one!
The registration and profile-page process actually took just a few minutes, which is a definitely a strong point for the disabled dating site – anything that takes too long won't hold the attention of love-seeking visitors for very long.
Value For Money
DisabilityDatingClub.com allows you to do certain things for free. You can register and build your profile page, as well as browsing the other members. This is a good thing because it allows you to get a good feel for the site before you make the decision to part with your hard earned cash.
Should you want to start chatting with other disabled singles, you will need to upgrade, and you can either do this on a month-by-month basis at £24.90 per month, or with a longer plan to save money. Six months, for example, will save you 40% at just £14.90 per month. You also have the option to add on VIP if you want the luxury of a priority listing and enjoy a bunch of other benefits.
Selection Of Disabled Singles
There were a lot of girls on DisabilityDatingClub.com, and there was a good age-range too. On my first search of just new members, the singles ranged from 23 to 38, with blondes, brunettes, red heads, long hair, short hair, curvy girls, skinny girls….
When I searched by location, there again, seemed to be a lot of girls in my local area, and within just fifteen minutes of being signed up, I had received five messages from local singles.
In short, there were a lot of girls!
Highlights:
*Plans offer great value for money
*Impressive selection of disabled singles
*Easy to user interfaced with plenty of additional extras
Rating: 5/5*
Website: DisabilityDatingClub.com