DisabledDatingClub.com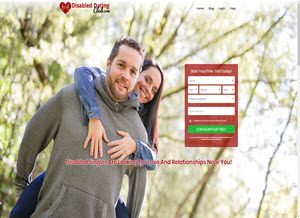 When you want to find love, especially when you are disabled, you don't want something fussy or overcomplicated. Isn't love complicated enough? Luckily, DisabledDatingClub.com was one of the simplest websites I had come across and not just that, it has been the one I have had the most luck with.
Take a closer look in the DisabledDatingClub.com review…
Appearance
I liked the way that DisabledDatingClub.com looked. I have learning disabilities you see, so if a website is too fussy, or has too much going on, I get easily confused and it stresses me out. This one is simple looking website that is both easy to use and a pleasure to browse.
For me, it's the little things that matter in such a competitive market as disabled dating, and the website design is very important.
Registration
Registration takes seconds. Once you're in, you're taken to your profile page to create your little masterpiece. You have the option to use the site's 'Quick Profile Builder' if you're a newbie to disabled or internet dating, which I thought was a lovely little touch. If this is your first crack at the online dating whip, it's not easy to know where to start, so having these handy hints like describing your ideal partner from a drop-down list of answers, or asking what your views on having children is, is a great place to get things started.
It also helps to weed out the time-wasters. No disrespect to anyone you meet whilst online dating, but if they aren't for you and the fundamental basics of your relationship aren't right, it's not going to work. If you want kids but she doesn't (for example), there is no happy ever after.
One question that made me laugh quite a bit was "Are you a telly addict?" It's a question you wouldn't normally consider asking a potential date, but it's one that I think says a lot. You can find out a lot about someone from their favourite TV shows!
Value For Money
Once you've filled out your profile page, you are given the option to take out their cheap membership plan. By cheap, I mean super cheap. For just £1.99, you can upgrade your free membership to a seven day trial, giving you plenty of time to get a good feel for the site, how it works, and the kind of members hanging around on there.
As far as value for money goes, I'd say DisabledDatingClub.com is a winner. If you don't like the site, you simply cancel your membership, and all you've lost is a couple of quid.
(Regular price is £12.97 per month – again, hardly breaks the bank!)
Selection Of Disabled Singles
You can search in a number of ways, and as well as having the actual search options you'd expect to find, you can also have a look at the latest members, as well as the members that have recently been online. It's a great way to wean out those annoying internet daters that only pop on the site once in a blue moon, and never respond to messages.
DisabledDatingClub.com is filled with members – many more on this site than I've seen on plenty others,
Highlights:
*AMAZING value for money
*Massive selection of eligible singles
*Best disabled dating website I've been on! Ever!
Rating: 5/5*
Website: DisabledDatingClub.com