WheelchairDatingclub.com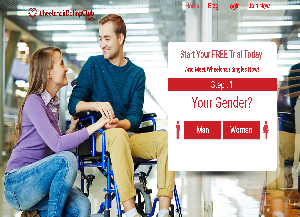 Again, another disabled dating website with a rather nicely "deceiving" name, WheelchairDatingClub.com is packed full of singles with all ranges of disabilities. From guys like me (with severe learning disabilities), to people with amputated limbs and wheelchair requirements, there are people from wall walks of life, and I even came across a few people without disabilities along the journey too!
I've had pretty decent success with this disabled dating website, and I also found it one of the friendliest too. All of the members seem to be happy-go-lucky ladies (or the ones I've met do anyway)
Appearance
The elderly couple on the homepage put me off ever so slightly and I had the impression that maybe the site was designed for disabled singles older than myself (32).
Luckily, that wasn't the case, and not only did I find they had a selection of members from all age groups, the website was pretty good-looking, and not too fussy or confusing to use. The grey colouring was a tad boring, but I'd rather have boring than complicated!
Registration
Another disabled dating website that you can join via Facebook (but don't worry, it won't post any of your activities), to seems that signing up to these internet dating sites is not quite the drama it once was, with easier profile pages and membership sign-ups that don't take hours to complete. Plus, the quick profile builder helps you out with pre-empted responses if you can't think of something to say.
>
Value For Money
One month's membership with WheelchairDatingClub.com will set you back just over £10, but upon registering, you could always take advantage of the seven day trial, which these sites seem to be favouring these days. It's a great offer to make use of, especially if you are new to the world of disabled dating, and you can get a good idea for the kind of members you are going to meet, and how to use the site, before you part with too much cash.
Free members can browse other singles on the site, and see profile pages and further information, but if you want to get in touch, you'll need to upgrade your membership, but for £1.99 (for 7 days), it's hardly costing you a small fortune.l
Selection Of Disabled Singles
As I've mentioned before, I was a tad worried that this disabled dating site might be for the more mature visitors but upon looking around, I realise this wasn't the case. There are members of all ages and just on the 'online now' list (as an example), there were single girls ranging from 22 right up to 40+ with a pretty decent and varied mix.
Highlights:
*Great search options with advanced searches for upgraded members.
*Impressive extra features such as 'Hot or Not'
*Easy to use, simple website.
*Great value for money!
Rating: 4.5/5*
Website: WheelchairDatingClub.com