Dating4Disabled.com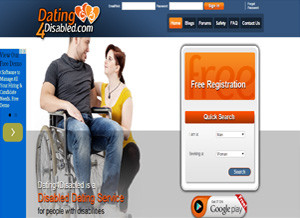 I always feel a website title with misspelt words is just a recipe for disaster so I'll be honest, I didn't set my expectations too high when I first took a peek at Dating4Disabled.com. A couple of friends had recommended the site to me, and it didn't have bad reviews around other sites I had looked at, so I felt it was worth a closer inspection.
Appearance
I couldn't stand the look of Dating4Disabled.com. It's too sales-y for my liking, and the blue and orange colouring was just too distracting. The picture on the home page put me off a little too, if I'm honest. It looks like a carer with a patient in a wheelchair…
Sorry, but that doesn't shout 'find love here' to me!
Registration
The 'free registration' lures you in, except when you click on it, it takes you to a 'search results' page rather than just a 'register' page. I don't mind this – I don't mind seeing what lovely ladies are on the site, but I just felt it was an extra step they could have omitted.
Almost as if they were making it too much hard work. I know that's a petty thing, but there are a lot of GREAT disabled dating websites out there so in order to be up there with the best, you're going to need a great, full-functioning, easy to use website – like DisabledDatingClub.com.
It's only when you click on one of the singles on the site that you are then taken to a page where you can register, and even then it's a two-step process. On top of that, I filled in one section incorrectly two times, and it clears most of the boxes you just filled in every time.
Then it got worse – you are FORCED to answer questions about your ethnicity, religion, education, income, and more.
Honestly – too long and too boring, plus too intrusive. Most other people would have given up by now.
Value For Money
Firstly, all the prices were in dollars and I couldn't seem to change the site to £'s again – very annoying. Even after I had signed in with my UK-based location specifications, it was still giving me the price in dollars. So I shall base this review on that…
If you buy a year, you're paying around $10 a month. One month at a time, you'll be looking at just under $20 a month. I would convert that into pounds for you, but I don't know if they are meant to have UK-based pricing. I couldn't find any evidence of that.
When you pay the membership, not only can you send and receive unlimited messaged with other members, but you also eliminate all ads from the site. It begs the question – how many ads were there to begin with…?
Selection Of Disabled Singles
The one thing I found worked in the favour of Dating4Disabled.com was that it had a decent selection of members. The age range seemed to go from very early twenties to 50's, 60's and even higher. The downside of course, was that there weren't many of them. I often found the same people coming up in different search results.
Highlights:
*Decent mix of singles
Lowlights:
*Not enough members online
*Off-putting website name
*Ugly website appearance
Rating: 2/5*
Website: Dating4Disabled.com