DisabilityDating.com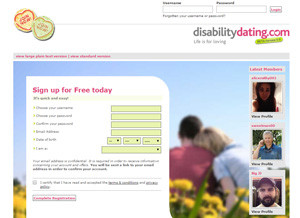 A friend had heard of another friend using DisabilityDating.com and recommended it to me after yet another series of failed dates that didn't live up to standards enough to get a call-back. I did some research and figured it had mixed (but not bad) reviews, so decided to have a closer look and register.
Appearance
I'm a big fan of retro sweets so I must admit, I quite liked the cute little love hearts in the top left of the home screen. The website itself is peaceful and easy to use. After the nightmare ad-stuffed website of DisabledPassions.com, this one was beautifully refreshing with a crisp and simple interface that does the job without looking overly complicated.
It's a friendly website – one that you feel quite at ease using.
Registration
Once you've registered and follow the registration link (that ensures all users are genuine ones), you need to fill out a few details about yourself before you can proceed. Not just that but you need to fill in the 'About Me' section, and that can take up to 48 hours before it is personally approved by the DisabilityDating.com team.
If you're looking for something to get you up and running in the disabled dating world fast, this one probably isn't it. The whole process was pretty long and drawn-out, and every time I thought I was ready to actually start browsing, there was yet another page of questions I needed to answer first.
Value For Money
The website is free and I couldn't see any 'hidden' costs or sneaky little things you weren't aware of. For value for money that's a good thing, but if you're really serious about dating, you may find that you have better luck with a dating site that actually charges a membership. With some of them starting at a couple of quid for a seven day trial, you at least know you're not going to get scammed. Plus there are more ads.
Selection Of Disabled Singles
I'll be honest – I didn't see any disabled singles so I can't comment on the selection. It took DisabilityDating.com over 24 hours to respond to my profile page and at that point, they requested I rewrite it (as it wasn't long enough).
I gave up and stopped using the website. With so many easier, simpler, better websites out there, all with real disabled singles for you to meet, it doesn't make sense for you to be wasting time on websites that take a good couple of days before you're even browsing the members. It's just too exhausting.
Highlights:
*Supposedly 100% free
*Simple, good-looking website
Lowlights:
*Registration took too long – too many questions
*Approval took too long – too many re-writes
*Didn't get a chance to see members as I got bored
Rating: 2/5*
Website: DisabilityDating.com