Disabled Dating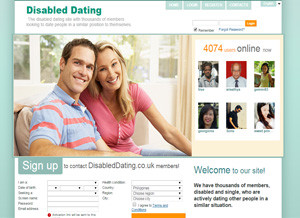 Whenever I type in this website name, it always feels like I'm typing it out wrong, although that gives it a unique selling point I suppose. At least then you don't have the .co.uk or .com debate!
It's a site that classes itself as 100% free to register and use. They all say that though, don't they?
Appearance
I quite liked the website, and the wheelchair-clad girl holding the bunch of flowers doesn't seem quite so condescending when she's not being hurried after by a middle aged man. Oh and she's sat on the beach.
The blue and white colours made it a site that looked friendly, fresh and simple, and I did like it.
Registration
Registration takes seconds, and you are given the option to skip the bits you can't be bothered to do, until you've had a good look around – the profile page building and photo uploading bit. The only thing I didn't like was the fact there was no email activation link so you can't be sure all members are 100% genuine. It's a little thing but one that I feel makes all the difference. It changes a decent website to a great one.
Value For Money
The website itself is actually free to sign up to and use, which is always good. However, as I've mentioned before, freebie websites tend to come with their fair share of disadvantages too. You don't know all the members are genuine, especially without that email activation link, and you are more likely to fall prey to scammers.
I'm not saying it will happen to you, I'm just saying that it could.
It's a free site, so you can't really except much out of it, and there is just a messaging function to make use of – no video chat, no games, etc. It's a very basic service on a very basic website. That's not a bad thing, if that's what you're looking for, but I like a website to give you more options than that.
Selection Of Disabled Singles
You can search in a whole bunch of ways and I loved the fact that the pictures were all bigger pictures. Normally they are so tiny, you can't really see what someone looks like until you click on their profile and sometimes, they can see that you've done that!     There were a decent amount of girls on there, but once again, most of them did seem pretty young although there were a handful of older, more mature dotted around. I would have preferred more but I think that's just me being petty.
Ranging from around 18 to 26 for the most part, this isn't the best site to sign up to if you are looking for someone more mature.
Highlights:
*Nice website
*Easy and simple to use
*100% free
Lowlights:
*No added extras
*Members seemed young
*No email activation link
Rating: 2/5*
Website: Disabled.dating