DisabledDating4U.co.uk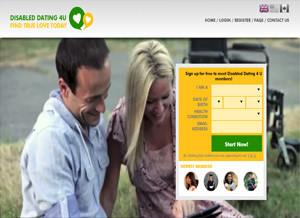 I've previously mentioned my disliking of website names that aren't spelt right, and I'll say it again – it's just a little off-putting. It hardly looks professional, does it? And if DisabledDating4U.co.uk can't get the website name right, how are they going to help you find love? I don't know, it might just be a personal thing but it's something I really don't like. And if I don't like it, it means other people won't like it too.
Appearance
Considering it's the "#1 Disabled Singles Site", or so it states on the website, it's all a little too condescending for my liking, with the traditional woman-in-wheelchair-man-standing-by scene going on. How typical, right?  The website itself is pretty simple – simple enough to work your way around anyway, but I there were a lot of things I didn't like from the name to the picture, and even the logo and site name on the home page.
I don't know. Appearance is everything, isn't it?
Registration
The usual stuff applies here – you enter the regular details and information and wait for the activation link to be sent to your email. This contains your username and password etc. so you can't do anything at all on the site until you have activated your account and received your login details.
It didn't take too long to come through, and I was given the chance to have a sneaky peek at some of the users as I waited, but I couldn't see anything more or contact anyone.
Value For Money
The free membership lets you have a good look around but if you want to do anything more than that, you'll need to upgrade your account. One month with DisabledDating4U.co.uk will cost you a little under £30 which is a bit steep compared to some of the other disabled dating websites I've come across. There's no seven day cheapie trial to make use of either which was quite disappointing. Considering I didn't like the look of the website overall, I wanted to at least make sure I could try before I buy.
As with most sites, the more months you buy at once, the cheaper the membership price is, taking it down to £14.90 if you buy twelve months. Again, I found this a bit steep.
Selection Of Disabled Singles
There seemed to be a decent selection of ladies on the site, although they did all seem to be a little young. The first ten of so profiles I came across were all under the age of 32, and considering I am 32, I wouldn't have minded looking a bit older than myself. Everyone seemed to be in their twenties. I wasn't really looking for someone much younger than myself. I was ready to settle down after all.
Highlights:
*Simple registration process
Lowlights:
*Quite expensive when compared to other disabled dating sites
*I didn't like the appearance
*Members seemed to be rather young
Rating: 1/5*
Website: DisabledDating4U.co.uk