Whispers4U.com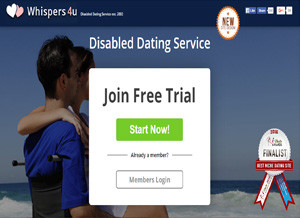 Can people really not spell 'for' anymore? I'm sorry to keep bringing it up but it really bugs me. That aside, I actually quite liked the name in a sense, despite the fact it has nothing to do with disabled dating at all…
Appearance
Despite being quite a busy website, it's not bad looking, with a simple, effective logo and a navy-blue colouring that wasn't awful to be fair. According to the site, they have recently signed up with the Channel 4 TV show "The Undateables".
Great. Let's plaster my failing love life all over a popular TV show. I know there are contracts and stuff involved but honestly, I don't want to be on the same disabled dating website as a load of fame hungry girls. Even if they were genuine, I'd always wonder if it was all just to be part of that TV show. I guess anxiety makes you think like that…
Registration
"Hundreds join daily!" and I was one of them! I clicked on the activation link, waiting for the bazillion members that I was sure would message me. If the site had been associated with a TV show, I imagined there would be quite a lot of interest, and therefore a lot of members.
A little bit about you and a little bit about what you are looking for, and you are on your way to browsing members. That's all you can do until you upgrade by the way…
Value For Money
It's actually not as expensive as I thought it was going to be, being associated with a well known TV show and all. If you buy in bulk, at say twelve months in one go, you'll only be paying £9.90 per month. If you want to buy your membership on a month by month option on the other hand, you're looking at almost £25, which is pretty steep.
You get the normal things you'd expect your upgraded membership to give you – the unlimited messages between members and the option to video chat and play games. It's a fun website to use, I'll give it that. Probably not fun enough to pay £25 per month though.
Selection Of Disabled Singles
There did seem to be a decent amount of members on Whispers4U.com, but once again, they all seemed to be quite young, highlighting the point I made about fame-hungry girls. On the first two pages of my search, all the members were in their twenties with the exception of perhaps one or two in their thirties. I would have preferred more of an age range than that.
Highlights:
*Decent website
*Plenty of members
*Lots of upgrade benefits
Lowlights:
*Members seemed quite young
*Associated with TV show (good and bad thing, I guess)
*Quite expensive compared to other websites
Rating: 3/5*
Website: Whispers4U.com